As more and more people seek to empower themselves with the freedom provided by knowledge, Universities and Colleges and other institutions are putting forth the effort needed to feed this ever growing market.
I'm sure that you remember the old saying, "There's an app for that", well today the saying has evolved into, "There's a course for that".
It doesn't matter what skill you are trying to learn, or what knowledge you are trying to master, there is an online course to teach you what you seek.
While most of the online courses charge a nominal fee to complete the class, there are a staggering number of online courses that are free!
These free courses include classes from a number of highly regarded American Colleges and Universities, including Harvard University, Massachusetts Institute of Technology, Berkely University of California, University of Texas and More.
A simple Google search for "Free Online Education Opportunities" will reveal a plethora of courses that you can complete free of charge from some of the most prestigious higher education entities in the United States.
Here is a sample of Free online courses offered by Harvard University.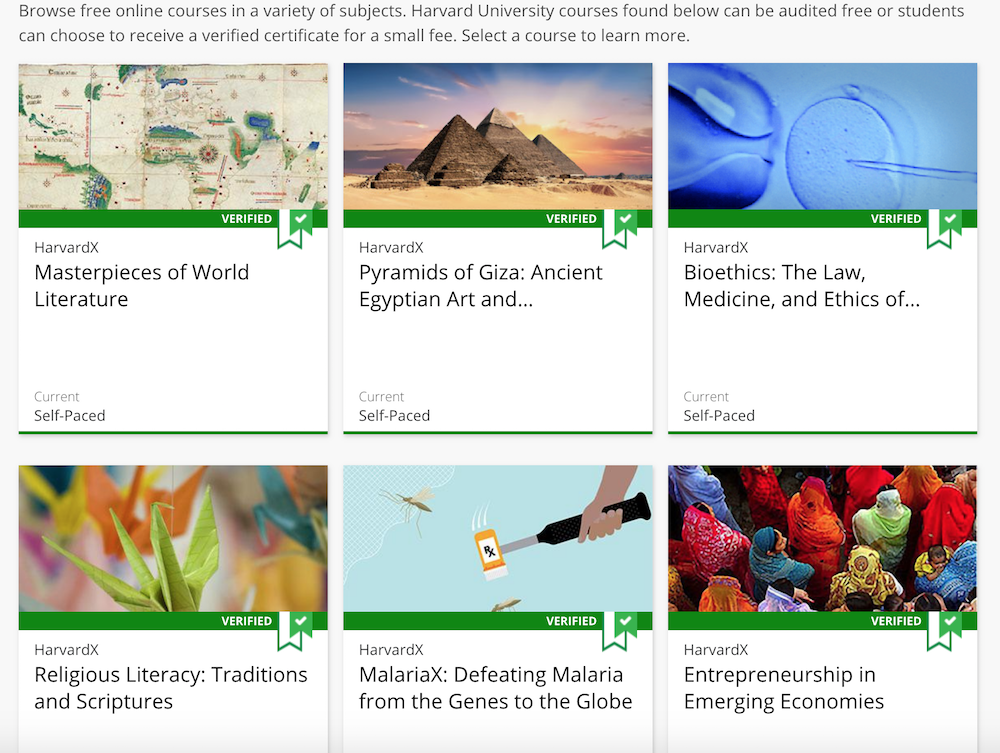 Masterpieces of World Literature
Entrepreneurship in Emerging Economies
Bioethics: The Law, Medicine, and Ethics of Reproductive Technologies and Genetics
Contract Law: From Trust to Promise to Contract
Statistics and R
Data Science: Visualization
Statistical Inference and Modeling for High-throughput Experiments
Energy Within Environmental Constraints
Cell Biology: Mitochondria
Religion, Conflict and Peace
CS50's Computer Science for Business Professionals
 Science & Cooking: From Haute Cuisine to Soft Matter Science (physics)
Introduction to Data Wise: A Collaborative Process to Improve Learning & Teaching
The Climate-Energy Challenge
This is just a small sample of the free online education opportunities offered by Harvard University.
To further illustrate the point that there are a staggering number of free online education opportunities, let's take a look at the free online courses offered by MIT.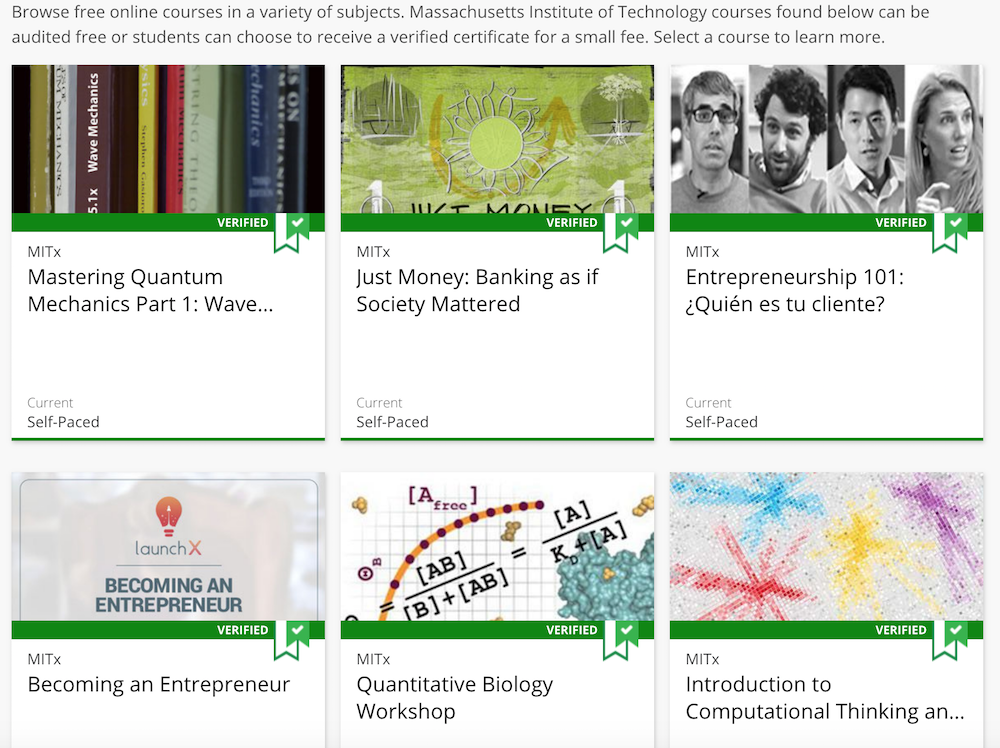 Just Money: Banking as if Society Mattered
Mastering Quantum Mechanics Part 1: Wave Mechanics
Becoming an Entrepreneur
Introduction to Computational Thinking and Data Science
Introduction to Computer Science and Programming Using Python
Introductory AP® Microeconomics
Circuits and Electronics 1: Basic Circuit Analysis
Shaping the Future of Work
Manufacturing Process Control: Variation Modeling and Control
Introduction to Biology – The Secret of Life
Global Health Informatics to Improve Quality of Care
Introduction to Manufacturing Systems
Supply Chain Design
Again, that is just a small sample of the free online education opportunities offered by the Massachusetts Institute of Technology.
All of these free online education opportunities are offered through a platform that was developed by a joint effort of Harvard University and Massachusetts Institute of Technology.
The platform is called EDX and includes free online education opportunities from a number of other highly regarded educational institutions as well.
The fact of the matter is, it doesn't matter what you want to learn, if you are willing to put in the work, there are free online education opportunities that are sure to meet your needs and take your knowledge to the next level.
Free Online Business Education
The problem associated with getting a free education in how to start an online business is that the industry is loaded with scammers that are simply trying to take your money while providing very little value.
During the course of our research, we did come across an interesting program that does offer a free education and seems to be the real deal.
The program is Wealthy Affiliate University and they teach a program in affiliate marketing.
According to jvanderlaan.com, Wealthy Affiliate is not a scam, but a real program teaching real skills and they have the success stories to prove it.
While there are many other programs teaching similar things, they are not free.
We believe programs like Wealthy Affiliate University play a pivotal role in the online education niche and as we move from a blended learning model to a purely online education model, we are going to find more and more opportunities like this.
The fact of the matter is that no matter the skill that you are interested in developing, there are numerous opportunities in the online education space for you to explore.
The key to being successful is to do your due diligence and make sure that you are getting value out of the program being offered.
Check back, as we will continue to add free online education opportunities as we find them.